Shopping Cart
Your Cart is Empty
There was an error with PayPal
Click here to try again
Thank you for your business!
You should be receiving an order confirmation from Paypal shortly.
Exit Shopping Cart
"Specializing in STOPPING leaks"
Serving the Greater Kansas City Area
YOUR COMPLETE ROOF REPAIR SERVICE!
Blog with Roof Doctor, Inc.
Spring Maintenance Checklist:
1. 
Look at the ceiling inside.
Any stains or spots could be evidence of water damage, indicating loose flashing (metal strips that seal connections) or shingle cracks or leaks. They can also be a sign of ice dams, which could mean a problem with insulation or poor home ventilation.
2.
Shingle/tile check.
Look for any missing shingles, and examine shingle condition for any that are peeling, cracking, or losing their grain. Asphalt shingles that are losing their grain are in danger of starting to crack and peel with exposure to sunlight. A few damaged shingles can be easily replaced, but many shingles in poor condition means a complete re-roofing is needed. Curling shingles could also be a sign of inadequate roof ventilation.
3, 
Clean the shingles.
If moss or algae is growing on or between the shingles, this needs to be removed. This can be done by spraying moss remover solution on the roof, then using a broom to remove the growth. Serious mold or rot needs to be addressed immediately by a professional, as the roof may need replacing.
4.
Shingle granule buildup
.
Excessive granules in gutters, downspouts and around the roof area are a sign that the shingles are worn and need replacing to prevent leakage.
5.
Chimney and skylight.
Check flashing connections between skylight, chimney and roof. Snow and wind can cause flashing to loosen and leak. Repair or replace any damaged flashing strips and seal cracks. Check the masonry joints of the chimney for damage or presence of efflorescence, a calcium deposit that could indicate water leaks.
6.
Roof bolts
. If you have a metal roof, check for any loose metal bolts and tighten them.
7.
Gutters and downspouts.
Examine the home siding for any evidence of water damage. Climb the ladder and use a trowel to scoop out debris, dirt and leaves out of the gutters. Tighten any spots where the gutter had come loose and flush any residue with the garden hose. Flush downspouts.
8.
Soffit and Fascia.
The vents in soffit and fascia are a favorite nesting place for small animals, who are drawn by the warm air. Come spring, these critters begin to reproduce, and if they find a way inside, you could be looking at serious damage inside your attic and home.
9.
Yard assessment.
Remove any dead tree limbs near the roof and trim overhanging branches.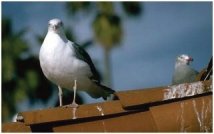 Bird droppings stain and corrode roofs and other building materials.  Pest birds cause tens of millions of dollars of damage every year to buildings, roofs,
ventilation systems
, and much more. Bird droppings and nesting materials which are allowed to accumulate pose a host of physical problems which can become very serious if they are not corrected immediately.  
Bird droppings
are very acidic in nature. They actually eat away at many substrates, especially tar-based roofing materials. Droppings which are allowed to accumulate on roofs will eat into the material and eventually cause
leaks
. The life expectancy of a roof can be cut in half by just a light, but continuous, application of bird droppings.  Birds will get under
eaves
and
soffits
to get out of the weather and will nest in these areas as well.  Have your roof
inspected
today!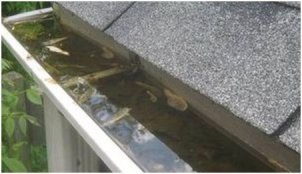 Hello, Friends!
 Today I wanted to remind you that
gutter cleaning
and roof inspections are of the utmost importance for our upcoming rainy season!  Protect your foundation from soil erosion, rotting wood, siding stains, and home interior with quarterly gutter cleaning.  
Call Roof Doctor, Inc.
today for special April pricing!  Now that the
snow
has melted, its time to
have your roof inspected
before the rains come this spring.  Your
chimney flashing
,
sewer vent pipes
, loose
valley flashing
, and
missing shingles
are all areas of concerns to have checked out annually in order to ensure the integrity of your roof and deplete all leak concerns.  Call today to set an inspection time or fill our our
estimate page
and we will be right with you!
/